Advantages of paving with ceramic paving stones
The main advantages of paving made with ceramic paving stones are given below.
Durability and colour permanence
Durability and colour permanence are undoubtedly one of the main advantages of paving using ceramic paving stones, and one of the main reasons to use this material in a project.
Unlike other products, ceramic paving stones maintain their wide range of colours over time, making them extremely attractive (as a ceramic element) and long-lasting.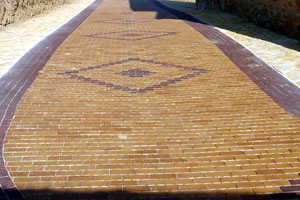 Expressive potential
The varied range of warm colours and the multiple combination of ceramic paving stones provide the perfect technical and aesthetic combination, only limited to the expressive potential of the designer with this type of paving.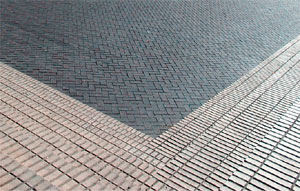 Physical qualities
Another great advantage of ceramic paving stones lies in their physical qualities.
These qualities make them resistible to frost and environments where pollution, acid rain and other aggressive agents may cause damage to other materials.
Paving using ceramic paving stones does not deform in high summer temperatures.
The compressive strength of ceramic paving stones can only be compared to natural stone. Also, their high wear resistance, hardness to scratching and their exceptional resistance to bending tension enables excellent results compared to other thicker paving stones, which means parts are lighter and more cost effective in their installation.
This high mechanical resistance of ceramic paving stones enables them to resist high one-off loads, which in other types of paving would lead to indentations or puncturing.
Economic maintenance
Owing to the aggressive action of outdoor environments and acting loads, all paving requires minimum maintenance in order to ensure the quality of these surfaces.
Preservation of flexible paving stone simply requires eliminating possible vegetation growing in the joints, which should be filled in as required depending on the erosive action of the environment.
Simple repairs
In flexible paving stone surfaces, it is possible to lift parts without damaging them, if urban utilities need to be repaired, for example.
Therefore, they are excellent for paving sidewalks, squares, patios, etc. as paving stones can be reused and in these locations later underground work is often required, such as gas, electricity, sewage services, etc., and ceramic paving stones can be lifted and replaced whenever necessary.
The use of paving stones is also suitable on unstable surfaces, where they have to be corrected owing to localized settlement.
Once the repair has been made, it cannot be seen.
Easy installation
They are easy to install, and do not have to be installed by a specialist. Also manual tools can be used.
Another advantage is that the surface can be used immediately after placing paving stones, both by heavy traffic and pedestrians.
The temperature during installation does not affect paving with ceramic paving stones, and therefore unnecessary delays are avoided.
Service life
Paving with ceramic paving stones has a service life of over 30 years, which is much higher than other paving.
Cost
Considering the aforementioned advantages: low maintenance, manpower and low-cost tools, high residual value owing to the possibility of reusing paving stones, service life, etc, this paving is highly cost effective compared to other types of paving.
All these aspects make ceramic paving stones an excellent option when designing paving for any type of space.